REGISTRATION FOR JANUARY 14-16 CONFERENCE IS NOW OPEN!
If you are a new conference registrant, welcome! Please click on the link above to process your registration.
Contact Carson Stanley at carson.stanley@ncprovidercouncil.org with any questions.
If you registered for the 2018 Conference and are able to attend January 14-16, 2019, your registration will be honored and you do not need to act.
The NC Providers Council will apply your existing payment and information to the January meeting. If you previously registered but cannot attend the rescheduled conference, please contact Carson Stanley at carson.stanley@ncprovidercouncil.org. Please also contact Carson if you have a registrant change between now and the conference date (e.g., a substitution for yourself or someone who you have registered). Thank you.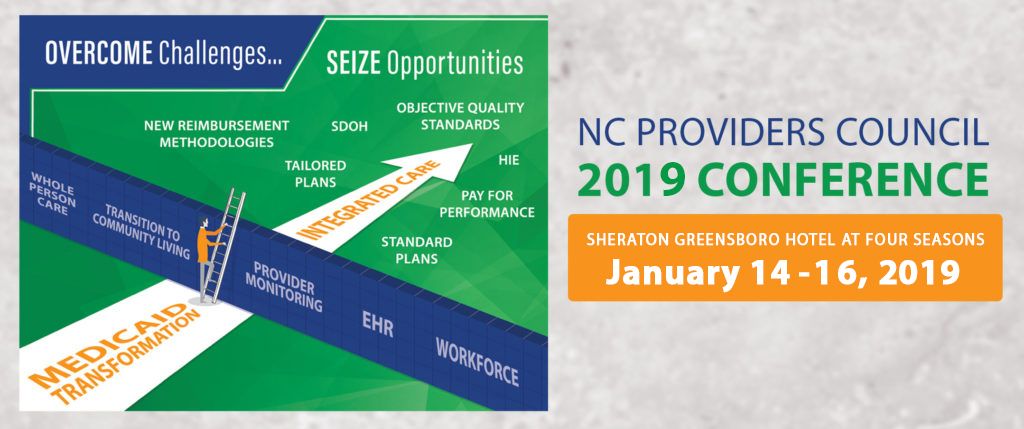 See our amazing lineup of speakers:
Mandy Cohen, MD, MPH, Secretary, NC DHHS
North Carolina's Vision for Medicaid Managed Care/Medicaid Transformation and Other NC DHHS Initiatives
Before coming to North Carolina, Secretary Cohen was the Chief Operating Officer and Chief of Staff at the Centers or Medicare &Medicaid Services (CMS). She brings a deep understanding of health care to the state and will address Medicaid Transformation, combating the Opioid crisis, and improving early childhood education.
Kody H. Kinsley, Deputy Secretary for Behavioral Health & Intellectual and Developmental Disabilities, DHHS
Kody leads state-wide public policy and operations that promote whole-person health by developing prevention methods, interventions, and systems of care for individuals living with mental illness, intellectual or developmental disabilities, traumatic brain injuries, and substance use disorders. He oversees the Division of Mental Health, Developmental Disabilities, and Substance Abuse Services and the Division of State Operated Healthcare Facilities, and he is the Senior Advisor for ADA. Kody's experience spans the public and private sectors, including positions at the White House, the U.S. Department of Health and Human Services, and leading operations for a behavioral health care service provider in western North Carolina.
Dave Richard, Deputy Secretary, NC Medicaid
Hear one of North Carolina's most informed and influential leaders discuss how managed care may work in North Carolina as our BH/ IDD specialty system is integrated with physical health. He will share his unique perspective on what the future may hold for providers and people receiving services.
Representative Josh Dobson, Co-Chairperson, Appropriations and Joint Legislative Oversight Committees for Health and Human Services
As one of North Carolina's most knowledgeable legislators on system changes required by the NC General Assembly's move to "whole person care" and the integration of physical health with BH/ IDD services, Representative Dobson will discuss how the transition of Commercial Plan and Provider-Led Entity Standard Benefit Plans, Tailored Plans, and LME/MCO services and populations may impact our BH/ IDD specialty system.Representative Dobson will also discuss policy and funding changes that will impact Medicaid and State Funded MH/IDD/SUD services.
Chris Sparks
Past President of ANCOR (American Network of Community Options and Resources) and Executive Director of EPI, a provider organization that has gone through the implementation of Managed Care in Iowa. Chris will share with us his lived experience, and a provider's perspective on issues and considerations for NC Providers.
Kim Opsahl, Director of State Partnerships and Special Projects, ANCOR
Kim leads ANCOR's ACL Business Acumen grant-related activities and serves as staff liaison to ANCOR's fifty-five State Association Members. She brings over 20 years' experience working with state government and advocating on behalf of programs and services for Hoosiers with disabilities. Prior to working with ANCOR, she served as the President/CEO for the Indiana Association of Rehabilitation Facilities (INARF). In that role, she was responsible for developing and directing the Association's resources in order to meet the needs of Indiana's disability service provider industry.
Melinda Dutton, Partner, Manatt Health
With extensive public health insurance program and healthcare safety net experience, Melinda Dutton helps clients—including provider groups—navigate the legal, regulatory and political challenges of the Medicaid and CHIP programs. With her robust experience in Medicaid, CHIP, marketplaces, delivery system transformation and payment reform, healthcare reform implementation is a significant focus of Melinda's practice. Prior to joining Manatt, Melinda worked at the Children's Defense Fund in New York, where she helped develop and secure legislation expanding publicly funded health insurance programs for children.
And other important sessions:
Successful Collaboration Between Behavioral Health/ I/DD Providers and Physical Health Providers
Innovative Care and Innovative Payment in Value-Based Payments to Providers
Direct Support Professionals – Supervision and Retention
Implementation of the Supports Intensity Scale and the Provider's Role in the Process
The DOJ Settlement and Olmstead
Disability Rights NC: Compliance in Service Delivery
Hospital Diversion
HIE Implementation for Medicaid Providers
State and County Revenue in System Transformation and Service Cost of Providers
Rising to the Challenge of Seizure Management: Review of New Seizure Medications
The Changing Role of the IDD Nurse (equipping today's nurse to meet the challenges associated with electronic health record systems, data collection, managing risks, and integrated healthcare)
Rising to the Challenges of Integrated Healthcare from a Physician Practice and Group Home Provider prospective.  How can physicians and providers work together?
Interested in Exhibiting/Sponsoring?
Click here for Exhibit/Sponsorship Information

Sheraton Greensboro at Four Seasons
The Sheraton Greensboro Four Seasons has a room block available for NC Providers Council conference attendees. The rooms are available at a rate of $139 per night, Sunday, January 13, 2019 – Tuesday, January 15, 2019. After December 18, 2018 this rate cannot be guaranteed.
To receive this rate, you must call the Sheraton at (336) 292-9161 to make your reservations, and be sure to mention you are coming for the conference!
See you in January!
For additional information contact Carson Stanley at carson.stanley@ncproviderscouncil.org or 919-784-0230.
Elite Partners:
Elite Sponsors:
Platinum Sponsors:
Gold Sponsor:
Silver Sponsors: